(63% Off!) American Eagle Backpacks Were $49 | Now $18.41
7 August 2015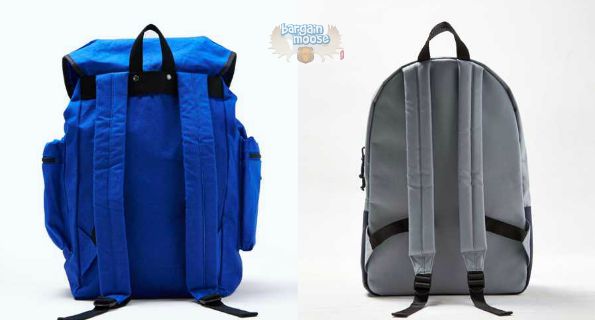 American Eagle has got an extra 50% off clearance items right now and they've already got some hot deals on backpacks in their clearance section. Regularly $49.02, they are all on sale for $36.80. Once you add them to your cart, they come down to $18.41.
If you have a teen who needs brand name style and American Eagle is one of those brand names, you won't want to miss out on this deal in getting them a new backpack for back to school. There are three styles available at the price mentioned, all with varying looks, so you are sure to find something your kid will love!
The first style is the colourblock backpack in grey with blue and red accents. Made from soft canvas, this backpack is for those who want a little bit of colour but nothing too flashy. It has the functions every kid needs in a backpack like interior and exterior pockets.
The second style is a canvas backpack, available in cobalt blue. The blue is quite a strong colour, so definitely not for the subdued kid who wants to walk the halls unnoticed. This one actually looks more durable to me and has an adjustable top flap plus a main compartment with a drawstring. It has a number of reviews, with a total five star rating, including this one:
Best thing I ever bought online.
If you want to know a little more on why this could be the best thing you'll ever buy online, this review seems a little more comprehensive:
I am able to carry alot more with this pack than others I have used. Really like the side pockets for easy access to small items I need to carry. It is very comfortable on your shoulders would recommend this to everyone
While you may see two other styles of backpacks in the list, they are out of stock. This tells me that these are pretty hot deals and might not last long. American Eagle has free shipping on $50 to Canada. They do ship from the U.S., so there is always the potential for fees at your door.
(Expiry: Unknown)
More Back to school