(60% off) Frozen or Thomas Backpacks – now only $11.98 with Free Shipping @ The Children's Place Canada! * HOT *
4 August 2015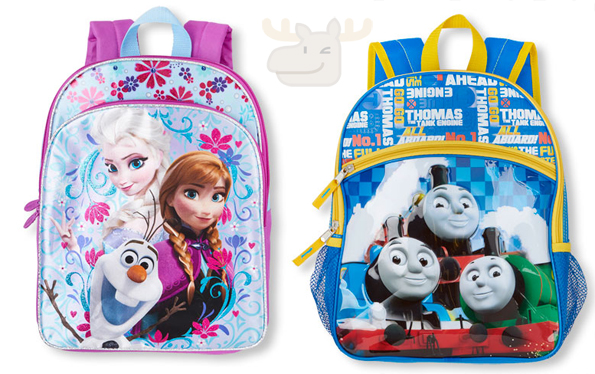 Yesterday, Kristy wrote up a really hot deal here involving The Children's Place Canada – they have up to 80% off in their summer sale, as well as totally free shipping on ANY order. I popped the information up here on our Facebook page and a kindly Mooser named Diane has gone one better – she found a coupon code for an extra 20% discount as well!! The coupon code is 5CB7FY20 and the Bargainmoose team has tested it out and it is working well. I was browsing and spotted a fantastic price on a couple of hot items – these super-popular backpacks. They are half price, down to only $14.98 – but they drop to only $11.98 with free shipping when you apply the coupon code!!
In the past, we've seen stock like this sell out really fast from The Children's Place – order it NOW and think later if you are even remotely interested in either of these items. Even if you've already bought your little one a new backpack for back to school time already, buy one of these and stash it in the cupboard. We've got about three of this style in the kid's wardrobe, and they come in useful on various occasions.
These would be ideal for a young boy or girl, for back to school. I can tell you that my daughter would be happy with either the Thomas OR the Frozen one, she wouldn't mind. I know that they're kind of gender stereo-typed in that the Frozen one will probably only be used by girls and Thomas is more likely to be used by boys, but I try not to get into that rut with my wee ones.
As for pricing elsewhere, it'll be a difficult task to find a better deal than this – in particularly, because of the totally free shipping with no minimum spend from The Children's Place Canada. For example, a Frozen backpack sold directly by Amazon would cost you at least $20 (plus potential shipping on top of that).
Thomas is super popular too. In the words of Kristy,
Oooh I need to forward that to my friend, her kid is Thomas crazy. They are going to thomasland when it opens in a few weeks.
Know any little Frozen or Thomas fans? Pass this deal on to them too. :)
(Expires: unknown)