3 Tips To Save Money On Back To School
17 August 2013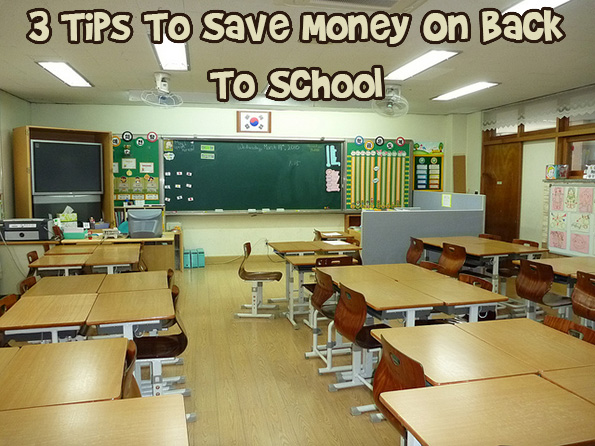 Going back to school is always a time of a lot of "new" stuff, and we all know that new stuff can be very expensive.  Items such as a new pair of shoes, new clothes, new backpacks, and new stationary can really put a dent in the back-to-school budget, especially so if you have more than one child.
As a child, I remember getting a new pair of shoes every year and it was, admittedly, something that I looked forward to and something that eased the pain of returning back to school.  Although my parents bought me a new pair of shoes regularly, to be frank, it was a waste of money because after a certain age, my feet stopped growing (thankfully). Nowadays, instead of just a new pair of shoes, there is much more than shoes as the back to school expenditures to get.
Here are three tips on saving money on back to school clothes and supplies, so you'll have more money to spend on other things!
Save Money on Back to School Clothing
Canadian Living has a great article on how to save money on back to school clothing.  Some of these ideas are great, such as hosting a children's clothing swap, selling your children's clothes to consignment stores (to recoup some of the "start up" costs), and to regularly shop second hand (so that your child understands that it's cool, hipster, and also good for the environment to do so).
Another great tip is to take inventory of the clothing items available before heading to the shopping mall.  Just like checking the inventory in the fridge before grocery shopping, you need to see what is available before going, otherwise you will end up with a lot of things that you didn't really need.  A lot of things get lost, so do a quick search around the home for lost items of clothing before going to buy new.  Another tip would be to make sure that the shopping list is clearly filled and completed so that deviation from the list is avoided.
Save Money on Lunch Bags
On the Martha Stewart blog, she teaches you how to make lunch bags (that are easily wipe-able) out of oil cloth.  This makes a great lunch bag with designs that you can customize and choose yourself.
Reinvent your child's old lunchbox by spicing it up with a built in chalkboard with this idea from Sheknows.  All you need is chalkboard paint and chalk.  Paint the insides lid of your child's metal lunchbox and let dry.  This acts as a chalkboard surface and adds instant creativity and uniqueness.
Finally, if these ideas aren't enough to get your creative juices flowing, this free tutorial from babble.com on how to make ten reusable lunch and snack bags might help.  A lot of these are easy in that they just require fabric and an ability to sew.  They even have a tutorial on how to make a Bento Box lunch bag (you know, if you ever have time to make sushi the morning before school, of course).
Save Money on Stationary
Parenting.com suggests that you allow your kids to raid the home office and then personalize their "finds" with their own decoration. Kids all love the idea of having something that was dad or mom's, especially if they get to personalize it for themselves.  For example, Parenting.com suggested decorating a plain white binder with creative pictures that are placed on the inside plastic cover of the binder.  This allows you to re-use a binder yearly by just making it look different with different pictures. Of course, the binder has to last the school year first without falling apart!
In addition, shopping closer to the back to school sale might yield more sales and attractive prices for back-to-school paraphernalia.  Many things do get marked down after September comes, so that might be helpful to keep in mind.
Bargainmoosers, do you have any other tried and true tips on how to save money for your back to school budget?
(banner image credit: knittymarie)
More Back to school