The Santafier Moustache Pacifier $11.60 @ Chapters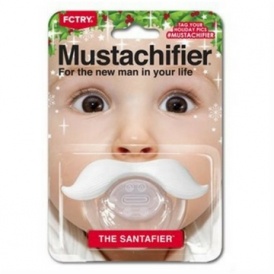 Okay, this is a must-have for any new parents on your Christmas list! This a-freakin-dorable Santafier Moustache Pacifier is perfect for the holidays, and it'll turn any little one into St. Nick himself – and Chapters has it on sale for $11.60, down from $14.50!
It's made by Mustachifier, the same company behind the Gentleman and Cowboy pacifiers – and Chapters has both of those on sale, too!
The Santafier is 100% BPA-free. It has a silicone nipple sized for babies aged 0-6 months, but it's still safe for older kiddos to use. The moustache itself is made of a flexible teether material, so it won't scratch or irritate your little one's face. The pacifier case is made from firm plastic with ventilation holes.
You can even pick up the Santafier Baby Santa Hat ($9.60 from $12) and Santafier Baby Socks ($6.40 from $8) to complete the look!
Just imagine how cute this'll look in your Christmas card photos!
Orders over $25 ship free, or you can ship any order to a Chapters store for free.