Summer Sale - Items From $7 @ Robeez Canada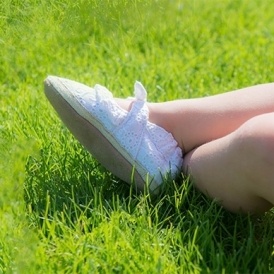 When my son was crawling and learning to walk, he always had a pair of Robeez footwear on. These shoes protected his feet without holding them in a certain position, and he was able to naturally keep his balance while keeping his feet comfortable. Right now, Robeez Canada has their Summer Sale on where you can get up to 60% off select items in their sale section. Prices start at $6.99 - and if I had an infant or younger toddler, my cart would already be full!
Soft Soles start at $14.99. These Digi Dino Soft Soles are available in size 0-6 months and are completely adorable with the little orange dinosaurs on the front. They were originally $34 - so snagging them for just a penny under fifteen dollars is quite a deal.
For a little girl, these Sweet Suzie Baby Boots are totally a necessity. They were $46 and are now priced at $19.99. Available in sizes 3-6 months, and 6-9 months - these boots are easy to take on and off and feels more like a shoe than a boot when worn.
The socks are priced at $6.99 down from $13.50. I like the Robeez socks because they have some writing underneath that doubles as grip. It really helped my son when he was learning to walk. The socks without any grip made or lots of slips and falls on our hardwood floor.
There are so many shoes, boots and more to choose from. Sizing may be sparse on the better priced items, but I promise this sale will be worth your time. Get free shipping on orders over $50 at MyRobeez.ca.
(Expiry: Unknown)