Set Of 3 Woven Baskets WIth Liner Now $24 @ Amazon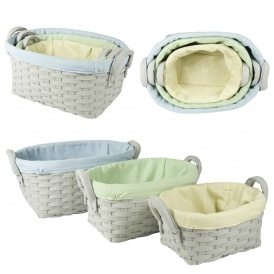 I can't help but think of Easter with these cute pastel colored baskets from Amazon. This set of 3 Woven Laundry Basket with Solid Print Liner was $29.95 and are now $23.96. While their title says they are laundry baskets, I could see these being useful for so much more. Storage is the key with kids, and these pastels colors would look so great in a baby's nursery. These baskets are much bigger than they seem, and could hold anything from toys to onesies. Be quick, this sale ends tonight and is already 20% sold out!

Any cute storage solution sells itself for me, especially baskets that can be used for so many things. I personally would not use these for laundry, they are way too nice! I would use them in a child's room, to store toiletries or tiny socks and underwear. All this to say that you can use these baskets for whatever you want!

Shipping is free at Amazon if you spend more than $25. So close, but I'm sure you can find a household item (that you probably need to buy anyway) to fulfill that minimum.

(February 24th 2016)