Maxi-Cosi Jool Convertible Car Seat, $320 @ Amazon.ca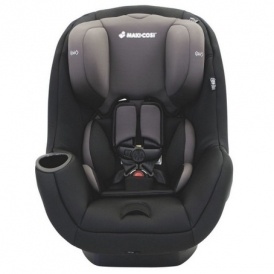 My cousin and I were looking at car seats for her infant son in early August and she had her eye on the Maxi-Cosi Jool convertible car seat. It's a popular choice for Canadian parents who love this seat because it's comfortable for baby, is lightweight, easy to use and most of all, it offers exceptional safety features.
There's a lot of talk on car seats in parenting forums and I note that this is the one car seat that keeps coming up in conversation. Parents across Canada who have done their research on car seats know that this offers comfort, convenience and features that add up to the best protection available for your baby.

On Amazon.ca, the average overall price in the past has been $380, with the highest being $400. Right now this ultimate car seat is on sale for $320 if you buy it in the 'total black' colour. It's a gorgeous pure black shade!
Here's some reasons why this car seat is so popular:

Compared to other car seats, snapping baby in and out is a piece of cake. The One-click UAS allows the Jool to be instantly secured.
The seat is also really comfortable for your baby. It's designed with a remarkable fabric that's self-wicking, to draw liquids and moisture away from your baby. It's also machine washable and you don't even have to remove the cover.
Air Protect technology protects and cradles your baby's head. Even when just looking at pictures of this seat you can see how much better it is than other models of car seats.
Protection around the torso with a patented 'GCell HX Foam' has hexagonal shapes to help protect.
Durable, steel-reinforced metal frame for maximum safety and peace of mind.
QuickFit Harness system with Center Front Adjustment.
The Maxi-Cosi Jool is a highly esteemed baby car seat in today's parenting world and a price drop like this makes the seat an enticing buy. (This is a 20% savings off of the regular price.)

Shipping is free on this item.