JAB Baby Sled With Handle Now $30 @ Walmart.ca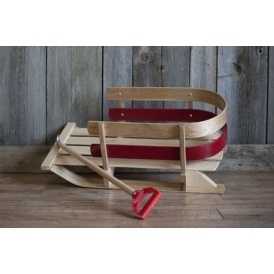 There's still time to play in the snow, Moosers! Just when we think winter is over, we get hit with another snow storm. That's just living in Canada I guess. Walmart has a cute JAB Baby Sled on sale at the moment for your family winter activities. It was originally $49.97 and is now just $30. It's perfect to bring baby along for some outdoor fun.
This particular sled and its pull handle is meant for babies, but it can actually fit children from 1 to 5 years old. Reviews are great for this little sled, but I'm not surprised. I don't think anyone ever regret bringing their kids outside to play in the snow, fresh air does everyone good.
This sled is the best price out there as far as JAB baby sleds go. You can get this sled with a cushion for about $30 more, but I think a fluffy blanket or a pillow would do the job just fine. This is also the kind of toy you can pass on to your next child, or to family and friends.

This sled alone doesn't qualify for the $50 free shipping minimum, but don't hesitate to get this shipped for free at your local Canada Post or your local Grab & Go location. It's so easy, you'll be happy you tried it out.
(Expiry: Unknown)