Genius - Summer Infant Pop N Sit Booster Now $43 @ Sears.ca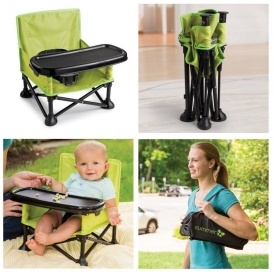 Here it is. The best. invention. ever. The Summer Infant Pop N Sit Portable Booster is going to be your new best friend whether you camp a lot or even just visit the in-laws a lot. This genius item is on sale for $42.49 at Sears.ca right now - and most other Canadian retailers are sold out. I can see why!
The Summer Infant Pop N Sit Portable Booster is small enough when folded that you can sling it over your shoulder. When you pop it up, it is a perfect (and safe) spot for your little one to eat and play when you are on the go. It even comes with a removable tray.
I can see this seat being popular for picnics, beach trips, camping or even Grandma's house. You could even just store it in the trunk of your car and you can have it wherever you go. You won't even complain about the consumed trunk space! It has a 3-point safety harness too, so not only is it super convenient but it is also safe and can even be strapped to a dining chair.
Sears.ca offers free shipping on orders over $99 - or you can opt for free in-store pickup. There are over 1300 different Sears pickup locations across Canada so you are bound to have one nearby.
(Expiry: 27th July 2016)