Fisher-Price Quick-Clean Portable Booster Seat Now $21 @ Amazon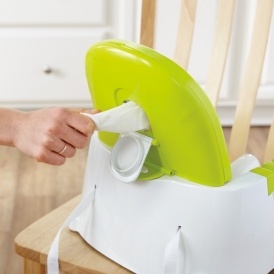 If you ever travel with a little one you need one of these seats in your life. And I'm not just talking cross-country trips--these things are great everywhere. We keep one at the grandparents' house just for visits and it's a god-send for meal times. They're amazing ideas for home day cares, too. Right now, you can snag the Fisher-Price Quick-Clean Portable Booster Seat for just $20.99.

This handy little seat attaches securely to nearly any dining chair, whether that's at home or on the go, as it packs up small for easy travel. Most importantly, it grows with your baby. There are two height adjustments, two tray positions and, finally, the tray removes when it's time for your toddler to eat at the table. Also super handy--there's a wipes dispenser built into the back of the seat to make clean up fast and easy when you're on the go. The dispenser is easily filled with standard size wipes.
The tray itself features a grip to help keep dishes in place (as all mothers of toddlers say, "ha!") but is dishwasher safe. A lot of comments state that they love the fact that there aren't a lot of nooks and crannies for food to get stuck which also makes clean up a breeze.
The Fisher-Price Quick Clean Portable Booster Seat sells for $34.99 at Toys R Us where it has thirty-two 4- and 5-star ratings. Grab it for 40% less at Amazon!
Be sure to top up your order to $25 with an essential or two to get free shipping.