Fisher Price Cradle Swing Now $95 (Was $190) @ Walmart.ca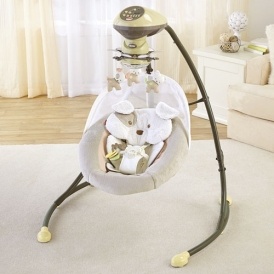 This offer won't last long at this price. If you are in need of a new swing for your infant, or even looking for the perfect Baby Shower gift then here it is. The Fisher Price Cradle Swing My Little Snugapuppy is on clearance sale at Walmart.ca for just $95 - which is quite a hefty discount from the regular price of $188.88. You'll also get free shipping.
Jump on this one, folks. I am sure it will be one of those deals that sells out within hours. I mean, you can't get a swing of this quality for this low of a price elsewhere. Let's face it, swings are lifesavers when it comes to parenting. The Cradle Swing by Fisher Price even has several awesome reviews to make the sale price even more luring.
The seat can recline in two different positions, and the swing has three different seat positions so your baby can swing from side to side or front to back. I know my son definitely preferred the side-to-side swinging motion. Maybe it felt more like the womb?
The Fisher-Price swing also plays 16 different songs. Eight of them are meant to be soothing, and the remaining eight are meant to be entertaining for your little ones. There are also 2 nature sounds too, which I never did use. It drove my dogs wild. You don't even need batteries if you prefer, you can use the AC Adapter as I always did. It is a nice feature to have because those big batteries can be so expensive if you use this mom-saver on a regular basis.
Walmart.ca offers free shipping on orders over $50, so you won't have to pay anything extra to receive this item at your door.
(Expiry: Soon!)