Digital Photo Frame & Video Baby Monitor, $90 From $180 @ Snuggle Bugz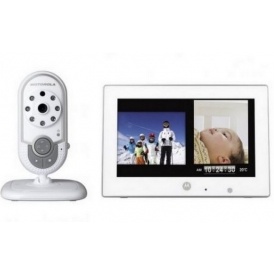 For parents or guardians looking for an easy way to monitor baby when they're sleeping (or when they're supposed to be asleep), this Motorola digital picture frame with video baby monitor is just the thing. This helpful device is on sale for only $90 after saving $90.
Because it uses a DECT Camera with the VIP frame's wireless technology, the two automatically link together and allows you to view crystal clear video. This type of setup is ideal for someone who doesn't want to set it up through an internet connection, etc.
It's a nice idea to have some pictures from the past scrolling as a slide show on one side, while you can watch your baby on the other! There is also a digital clock and a temperature display.
The resolution is quite low, but on a small 7" screen, the 480 x 234 pix should suffice. I recall the days when we had only audio monitors. They would often snap crackle and pop like rice krispies. So we had to try to be stealth as we made our way into the bedroom to make sure our baby was ok. Awakening him in the process of course.
Shipping is free on this item as well, since Snuggle Bugz ships for free on orders over $49. (Some exceptions apply.)
(Deal expiry: Unknown)