Baby Sock Ons From $9 Shipping @ Shop.ca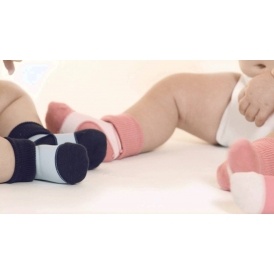 Here's a nifty item that most people haven't heard of! Check out the Sock Ons from Shop.ca. These nifty footwear items are a great buy for anyone who has a baby or is expecting a baby. They are made from a stretchy material and will fit over top of your baby's current socks to prevent them from falling (or being pulled) off. At Shop.ca you can get these miraculous little items for as low as $8.99 including shipping.
There are so many colours available to choose from. It looks like the sizes come 0-6 months and then 6-12 months. The prices remain $8.99 on both sizes. The prices do increase when you get into the Socks On Plod Ons Knee Protectors. Then you're looking at $14.99 instead - but they would be great for when baby starts crawling!
I wish I had these when my son was little. He was a February baby so he was pulling his socks off constantly even when the temperatures were rather cold. Then when he started crawling, his socks got caught on everything and it was near impossible to keep them on. I actually wish they made these in adult size. There is no worse feeling than your sock falling off inside your boot as your walking. I look all find and dandy on the outside, but deep down my sock is falling off!
Isn't it just marvelous that Shop.ca throws in free shipping on all purchases big and small? That means you won't have to worry about shipping costs even if you only want to buy one pair of Sock Ons. Pretty sweet, right?
(Expiry: Unknown)