3-Days Only: Baby Madness Weekend @ Toys R Us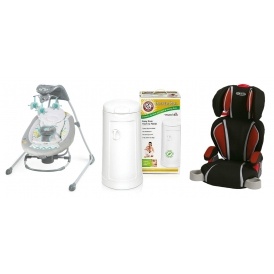 Fellow Mooser Megan posted today about the Toys R Us half price deals. That's not the only even going on at Toys R Us this weekend. Babies R Us is having an event of its own called the Baby Madness Weekend! They have items up to 50% off, with prices starting from $14. You'll find quite the variety of item in this sale. It's certainly worth checking out if you're an expectant mother or a new mom.

This sale has a good number of items at 50% off, like this Disney Frozen Table and this Paw Patrol Table. They come with two chairs, and were originally $49.99. You can get them until Sunday for $24.97. It is the perfect table for drawing and eating. The vinyl surface also makes it easy to clean.
The other item that caught my eye was this Arm & Hammer Diaper Pail at 50% off. For $24.97, you can make sure those dirty diapers are locked away in this diaper pail with the help of baking soda. Baking soda is well known for absorbing odors, which makes it the perfect product to keep your environment smelling fresh, even with dirty diapers hidden away in this pail.

Shipping is free at Toys R Us if you spend more than $50. You can also get your purchase shipped for free at your local Toys R Us location and pick it up there!

(Expiry: March 20th 2016)