Baby Bottle Holder - No More Explosions $16 @ Amazon Canada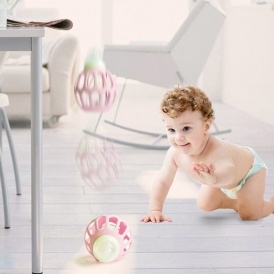 How many times has baby (or mom) dropped the baby's bottle only to have a huge explosive mess to clean up? This looks like a great (and cute) solution! Get your hands on the Anti-Drop and Anti-Explosion Baby Bottle Holder from Amazon Canada for $15.99. This product is sold by iDaye but shipped and fulfilled by Amazon Canada.
The Anti-Drop Feeding Bottle Holder is suitable for little hands to grasp, and embraces the outside of the bottle. It makes it easier for baby to hold the bottle, and also prevents explosions if the bottle does get dropped. This Feeding Bottle Holder comes in blue, orange and pink.
The ball size is suitable for most wide-neck baby bottles with a capacity of up to 240 ml (approximately 8 oz). I know I used the wide bottles for my son when he was a baby. They were easier for him to hold, and easier for me to clean. Actually, to be exact, I used these Playtex Ventaire Complete Feeding Bottles (Wide) which are $23.74 for this entire set.
Amazon.ca offers free shipping on orders over $25 - so maybe you need two of these, or know of a friend who is expecting or may need one? Perhaps these are the new "best baby-shower gift, ever".