Skip Hop Moby Waterfall Bath Rinser Just $11 @ Amazon.ca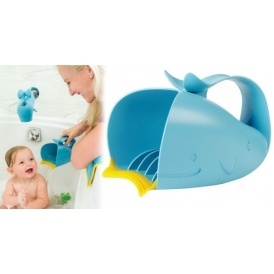 How adorable is this Skip Hop Moby Waterfall Bath Rinser?! For Just $11 you can call this adorable rinser all yours by shopping at Amazon Canada. This cute jug is sure to help you get the job done a little faster, whether you have a squirming infant or a toddler who hates having their hair rinsed. This adorable whale will win the hearts of your children for sure. Spend $25 to get free shipping from Amazon.ca - or Amazin Prime members will get free shipping on this item alone
The Skip Hop Moby Waterfall Bath Rinser is a great way to rinse your kid's hair without all the fuss. They will think this whale is so much fun, and maybe they will put up less of a fight when it comes to rinsing the shampoo out of their hair. For just $11 from Amazon.ca, you have to admit that this Skip Hop Moby Waterfall Bath Rinser is practical, cute - and maybe even a fabulous baby shower gift.
The Skip Hop Moby Waterfall Bath Rinser has ridges on the inside that will help to create an even pour, which will be less shocking for the kiddos. When you are not using it, you can either stand it up on the edge of the bath tub or hang it up by the handle to allow it to completely dry. This bath rinser is PVC, phthalate and BPA free which is so important.
There are 22 customer reviews at Amazon.ca that will give you an excellent idea on the quality of this product. Customers say that this rinser is designed to make the water come out in a wide sheet like a waterfall, which will make rinsing your squirming babies a little easier. The yellow lip you see is soft and flexible, so you can press it right against your kid's head and tilt their head back to avoid getting soap in their eyes. It also looks to hold quite a bit of water, so hopefully you can get the job done in one or two rinses.
If you are looking to reach the $25 minimum spend threshold, then I suggest you also add this Skip Hop Bath Spout Cover for $15.50 to your shopping cart. Then your bath rinser and faucet cover will be all matchy-matchy and adorable at the same time. Skip Hop has an entire collection of Moby theme items for reasonable prices. There is a tub stopper, bath kneeler, elbow rest, thermometer and so much more. These items will make bath time a little more fun too, not that the kids have any problem having a bath as it is.
(Expiry: Unknown)