4-in-1 Convertible Crib Now $200 (66% Off) @ BestBuy.ca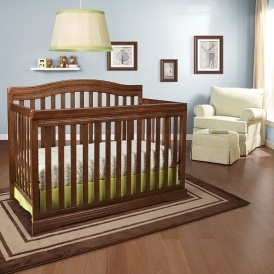 Are you expecting, or know anyone expecting? Get your hands on this Broyhill Bowen Heights 4-in-1 Convertible Crib in Dove Brown. It is exclusively available online at BestBuy.ca right now, and is on sale for 66% off which puts the price down to $199.99 including shipping.
This is the crib that is going to grow with your child, instead of your child growing out of it. The 4-in-1 design allows the crib to transform into a daybed, then a toddler bed, and then it even acts as a full-size headboard and footboard. At which point you will need to purchase a full-size bed frame, which won't be hard.

Just remember the mattress is definitely not included! So keep your eyes peeled for proper deals in that department. I got mine for 40% off at Toys R Us when my son was still in my tummy, so that is always a good place to look. This bed frame is made of solid pine wood, with a non-toxic finish. It has tree different mattress heights so you can lower the mattress as your little one gets bigger and learns to sit up or stand up.
This crib is even shipped for free, which is super convenient as you cannot reserve it for pickup at a local Best Buy Canada store.