Despite the booming telecommunications businesses (Telus, Shaw, Rogers, Bell) and the expansion of Internet services, many families still pay about the same amount for home phone services. How much does it cost? Roughly $40 a month on home phone, and it adds up to even more than this if you have call display, call forwarding, or voicemail (which are pretty much necessities, like... duh!). Oftentimes it is possible to bundle your home phone, Internet, and cable services for a discounted rate. Even with a bundle price, the monthly cost of home phone services can really add up.
How about: Ditch the Home Phone
Many young people nowadays don't own a home phone and instead use cellular phones to communicate. This is what I currently do. This individualistic approach might not work for a family however, especially for families with teenagers who need to have hours and hours of phone time with their friends. It also doesn't make sense for each person in the family to have a cell phone (this can surely add up).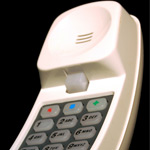 Use the Internet to your Advantage
In Canada, just about 82% of the population (Internet World Stats) is regularly connected to the Internet. That's a LOT of Internet users.
With the onset of the Internet and super fast speeds, VoIP or, Voice Over IP (source: Wikipedia) has revolutionalised the telecommunications industry. No longer do you need to have a calling card to call long distance. With Gmail phone services (still free calling between United States and Canada a vice versa with a gmail account), Skype (very reasonable prices to call or free phone calls between Skype accounts), and applications for smart phones like Talkatone (utilization of the gmail phone for free calling within north america), you're pretty much covered for all of your calling needs!
However, these VoIP services all seem to use smart phones or computers (with high speed internet access) to work. Oftentimes, these VoIP services do not provide a number for you.
For example, when you are dialing out with the gmail account, the receiver of your phone call sees a phone call originating from an obscure city/town- Escondido, California. I know that sometimes when I use Talkatone to dial my mother, she purposely doesn't answer because she thinks it might be a telemarketer because of the random, seemingly long distance phone number that appears on her call display. Many families want a phone number they can give people and they want a voice mail. So how does one replace a home phone then?
VoIP Continues to Improve
Magic Jack
With Magic Jack (it can be purchased online, or can be purchased at Future Shop or Best Buy for $50 or so), you pay the one time cost of the handset and the installation fee.
After that, you pay the annual fee for Magic Jack for $20 or so.
With Magic Jack, you can now have a designated phone number to use (or even be able to transfer your current home phone number over with Magic Jack).
The only downside to the Magic Jack is that it depends on your Internet working well and you also need to connect the Magic Jack handset to your computer. Also, it currently does not work in the Quebec province. The other downside is that their website seems a bit spammy.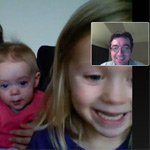 Skype
With Skype, you now have the option of having a phone number attached to your Skype call as well for an annual fee of $60 per year (and this includes voice mail). This means that people can call you (and you can give them a number to call you at).
The downside with using Skype is that for calls to a phone number (versus a Skype account), the per minute charge is at least $0.02/minute to the United States, and because it is pay per use, it's easy to lose track of how much you talked and how much the phone call will cost. Also, they charge a small connection fee for all long distance calls. It might be easier to budget for a regular expense (or better yet, no expense) instead.
If you don't like the per minute idea, you can sign up for the monthly option- it's $2.99 for unlimited calling to the United States or $13.99 per month world wide.
The good thing (or maybe it's a bad thing, depending on your perspective!) about Skype is that once you have a Skype account and purchase Skype credits, it automatically deducts a set amount from your credit card should you run low on Skype credits. You'll never have to "refill" it or go out and buy a phone card again. I set it to $15 credit and I never worry about being "low" on my credits. The $15 also lasts a long time for me too.
The Major Downside to VoIP Home Phone
The major downside to VoIP services is if the internet slows down or isn't working well. This can often be the case especially if you have digital television (connected through the internet like what Shaw uses) running concurrently with your Internet.
It can be frustrating to say the least when you need to make an important phone call and your Internet isn't working well enough for you to have a good connection. I've had this happen numerous times when I use Talkatone or Skype to make an important call.
In the end, it's really your choice and preference what you prefer to use. Some people wound rather save the monthly home phone expense and they choose VoIP for their home phone needs, and others would rather cut back on other things in their budget in order to continue to have the home phone, because they see it is a necessity in family life that can't be compromised by shoddy internet speeds.
Bargainmoosers, have you heard of VoIP or Magic Jack and Skype? Do you use VoIP instead of a home phone?

(Image credits: Pete Prodoehl, Kevinschoenmakers, VampzX_23, Ewan McIntosh)