Amazon App Giveaway: 37 Free Apps - Trivia Crack, OfficeSuit Professional 8, Runtastic Pro & More (Android Only)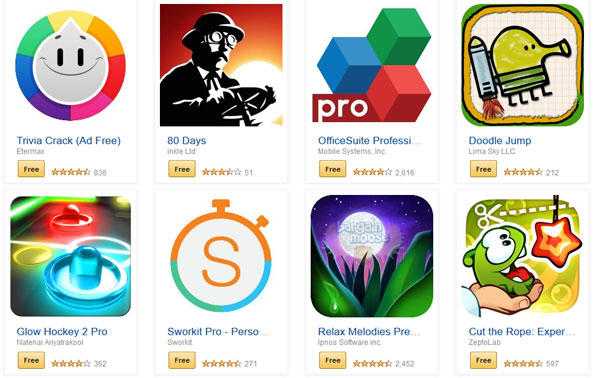 Yay, free apps! Right now at Amazon, you can get up to 37 free apps. These apps are only available for Android users.
Here are just some of the top apps that you can get for free:
Trivia Crack (ad free)
80 Days
OfficeSuite Professional 8
Doodle Jump
Glow Hockey 2 Pro
Sworkit Pro
Relax Melodies Premium Ambience Meditation
Bag It (ad free)
Listure
mSecure
Travel Interpreter
Shazam Encore
Runtastic Pro
Ever heard a song playing that you really liked but had no way of knowing what it was? Then Shazam should be yours to download first. It's usually free to download anyways but Amazon is offering the paid version for free, which is Shazam Encore. Usually $4.99, it includes special features like unlimited usage, unlimited tagging, etc. I have used this app numerous times in the past and I can certainly attest to its accuracy. The great part about it is that it still works great even in a crowded area.
Candy Crush is great but if you're looking for something new to play, then give Trivia Crack a try. My hubby and I have been playing this game back and forth for a couple of weeks now and it's loads of fun. We both have the free version and while the game is entertaining, being bombarded by ads all the time isn't so fun. At Amazon right now, you can get the ad-free version of this game, which would normally cost $3.49 on the Google Play Store. The goal is to answer trivia questions correctly and beat your opponent, which can be either friends or random opponents from across the globe.
If you're planning on travelling any time soon, then you should definitely download Travel Interpreter as well. Regularly priced at $9.99, it has more than 2,200 illustrated words and phrases in up to 32 languages like French, Spanish, German, Russian, Arabic, Chinese, etc. Here's what someone had to say about it:
The app is really useful. I downloaded the German one inside the app because I speak German already so I wanted to see how accurate it was. It's pretty great and the phrases are simple and easy, great for anyone who truly doesn't know the language. There are a lot of topics to choose from. I really like that you can hear how the word or phrase is supposed to be pronounced.
(Expiry:  Unknown)