Updated: 07 July 2016 14:51
Amazon Prime Exclusive: Garmin Vivofit Activity Tracker $52 Shipped @ Amazon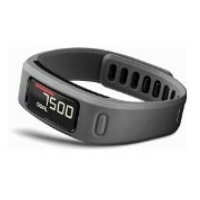 If you've been dying to join the activity tracker trend but haven't wanted to shell out $100-plus dollars, this is your opportunity to get a solidly reviewed tracker from Garmin for just $51.99. It's one of today's Amazon Prime exclusive Deals of the Day!
With our Bargainmoose Live Blog Page we will keep you in the loop on Amazon Prime Day on July 12th! This is the best source on the internet to find your Amazon Prime Day deals with our continuous, live, updates! Bookmark this link and share with your friends.
The Garmin Vivofit is available in six different colours: black, slate, teal, red, blue and purple. I like the slate myself.
This Vivofit motivates you to move throughout the day by displaying a red bar after an hour of inactivity. Additional segments light up for every 15 minutes of inactivity beyond that; just get up and walk to reset! It learns your activity level and assigns a personalized goal each morning; counts calories and records calories burned throughout the day. It can also monitor your sleep habits. Set the sleep mode when you go to bed to track the quality of your rest.
They claim the Vivofit's battery life is amazing--wear it up to a year before having to charge it. Wow! That's always been an issue with the trackers I've tried--you have to remember to take it off and charge it every night.
Remember, this deal is exclusively for Prime members (in case you missed it, we've discussed the merits of signing up for Amazon Prime in this handy post).
(Expires: 7th July 2016)