Updated: 11 July 2016 10:40
Amazon Prime Exclusive: Diono, Britax & Graco Seats up to 35% off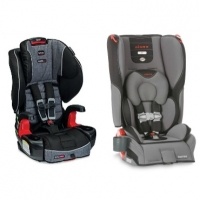 Amazon's Prime Day is tomorrow and they're ramping up the deals with some great ones today! If you're a Prime member and in the market for a car seat or booster for your kiddo, you can get some of the best brand names for up to 35% off today only.
With our Bargainmoose Live Blog Page we will keep you in the loop on Amazon Prime Day on July 12th! This is the best source on the internet to find your Amazon Prime Day deals with our continuous, live, updates! Bookmark this link and share with your friends.
Diono is one of the highest rated car seat brands anywhere that you look. Amazon has the Pacifica Seat for $100 off today at $259.99. It's convertible and will take your child from birth (5 lbs.) all the way through the booster stage (120 lbs.). Also at $100 off is the Diono Olympia Seat which is also convertible and will take your little one from birth to 110 lbs.
Another highly rated seat manufacturer is included in this sale: Britax! The Frontier ClickTight Harness-to-Booster Car Seat is 35% off at $292.49. The link above is for the 'Kaleidoscope' print but it's also available in a grey and black colour scheme called 'Vibe', a cow print cleverly called 'Camooflage' and 'Congo' (red and black) for the same price.
If you're just looking for an inexpensive booster that's still very highly-rated, check out the Graco No-Back TurboBooster--available in a few different designs--for just $22.49.
Prime members can take advantage of these great prices today only and, of course, they'll all ship for free!
(Expires: 11th July 2016)