Updated: 10 July 2016 10:01
Amazon Prime Exclusive Deal: Up To Half-Off Levi's From $13 @ Amazon Canada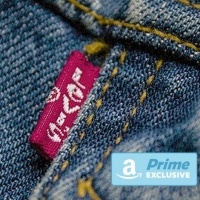 Amazon Prime Day is just two days away! Leading up to it, Amazon Canada has exclusive new daily deals for Prime members. Today, you can get up to 50% off Levi's jeans and tops!
With our Bargainmoose Live Blog Page we will keep you in the loop on Amazon Prime Day! This is the best source on the internet to find your Amazon Prime Day deals with our continuous, live, updates! Bookmark this link and share with your friends.
It is not often you see discounts of 50% off Levi's products, that's for sure. Which is just all the more reason to shop today's Amazon Prime Exclusive Deal!
There are items for both men and women today, so have at 'er. I like the Levi's Women's Bermuda Short which are currently on sale for $29.99. These shorts are great because you will keep cool on a hot summer day without having to worry about your shorts being too short.
I have had my eye out for a nice jean jacket for quite some time as well. The Levi's Women's Classic Trucker Jacket looks like the perfect style, and the price is just $41.99. I like that the sleeves even roll up. My last jean jacket couldn't do that.

The only way to order this it to have an Amazon Prime membership. You'll also get free shipping!

(Expiry: 10th July 2016)