Updated: 06 July 2016 13:39
Amazon Prime Exclusive - Cuisinart Combo Steam/Convection Oven, $224.99 @ Amazon.ca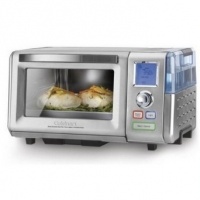 With our Bargainmoose Live Blog Page we will keep you in the loop on Amazon Prime Day! This is the best source on the internet to find your Amazon Prime Day deals with our continuous, live, updates! Bookmark this link and share with your friends.
When I noticed that there is a steam clean feature on this Cuisinart CSO-300NC Combo Steam/Convection Oven with New Steam Clean Feature, I was almost instantly sold. Then I saw the low price, and it clinched the deal.
In celebration of the upcoming Amazon Prime Day on July 12, Amazon.ca is dishing up some amazing deals. This Cuisinart Combo Steam/Convection Oven is on sale for $224.99, and the regular price is $299.99.
Here are some highlights that this combo oven offers:
Cooks food fast (up to 40-percent faster than conventional ovens) Functions include: bread, bake convection or bake steam, broil or broil steam, steam or super steam and keep warm NEW steam clean feature cleans the oven at the touch of a button. Food retains valuable nutrients, vitamins and minerals as well as moisture and freshness. Limited 3-year warranty.
You may purchase this item only if you are an Amazon Prime member. You can sign up for a free 30 day trial (with no obligation) today, to get in on this deal if you are not yet an Amazon Prime member.

If you have ever considered becoming an Amazon Prime member, now is the time to decide to jump on-board. Here is everything you will want to know about becoming a member.
Amazon.ca is counting down the days until Amazon Prime Day on July 12th, and they are kicking the countdown off with some serious deals that are only available to Amazon Prime members.

Shipping is free on this Cuisinart Combo Steam/Convection Oven!
(Deal expiry: July 6, 2016)