Whopping 70% Discount On Sunglasses From Lenscrafters Canada!
I've found a great printable coupon on the Lenscrafters.ca website. It's actually worth a 70% discount on your non-prescription sunglasses from Lens Crafters stores.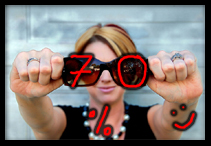 Click here to find and print out your free coupon from Lenscrafters Canada.
And here's the Lenscrafter store locator too.
Exclusions: Chanel, Maui Jim, Oakley and Tiffany.
It's valid until the 7th of February, so not long to make use of it!! It's a shame there's a few exclusions, but you still might be able to pick up a few bargains.
I love buying sunnies… I have quite a few pairs of non-prescription glasses. I have worn contact lens for a few years now, and it makes it really easy just to choose a nice fashionable pair of glasses to wear, as they don't need to be prescription lenses.
Although, all my sunnies seem to have some sort of attraction to the glove box in my car. They somehow magically migrate there. Any time I go to find a pair in my house, I can't find any. I look in the glove box, and lo and behold, there's a veritable sunglasses house party happening in there. Weird.
Thanks vw4ross.