Unique Funky Purses, $55 + Fragrance Sale @FragranceBuy.ca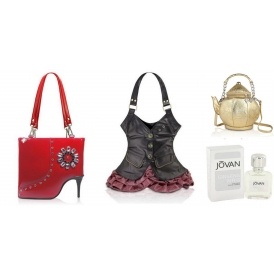 I'm going to play a bit of a game with you here. Sort of like what they did on the 'Big Bang Theory' TV show recently...
"Never have I ever..."
"Seen purses this unique, fascinating, and [as Mel B. from AGT always says, "Off the chaaaaaaaain"] before."
Do you have so many purses that your friends always admire your purse collection and ask to borrow them? Look no further then, I do believe you will find for yourself the mother of all purses in this utterly unique collection. (Speaking of mothers, there could be one or two purses that are just right for your mom in this collection. Mother's Day will be here before we know it.) Bonus tip: If you buy one for your mom, she will probably let you borrow it!
I am struggling to find words to bring justice to this exquisite purse collection designed by Amlyia, but am really at a loss, so without further adieu:
The price on each of these purses is $55, down from $101, (with the exception of one purse in the collection selling for $31, down from $48) and those are great prices on purses that are bursting with such detail and character. There are 6 different purses to choose from. There's a 3 day 'Facebook promo' that will show up as free shipping when you enter promo code happy8 in the promo code box during checkout, plus you will receive 8% off items over $31. (Free shipping is only applicable to orders that reach over $28 after discount promo code is applied, so make sure to spend a minimum of $31 pre-discount if you want to receive free shipping.) Free shipping, oh, happy days! Now my weekend just got happier, and I hope yours did, too!
My husband will often get asked what cologne he is wearing, because it smells so nice on him. It's Jovan NRG, and is surprisingly inexpensive! It's on sale for only $18.40 including the 8% discount code, down from $25. The NRG cologne seems to be a rare one to find in-store so I'm pleased with my find. Without the purse in my cart, shipping shows as $7, so I know what I have to do... Buy the purse as well, to get free shipping on my order, (or purchase another fragrance that is over $11 to receive free shipping. Win/win!
With the Angry Birds movie coming out in theatres this May 2016, your kids will love this Angry Birds King Pig Kids Fragrance (Also A Piggy Bank), and it's on sale for only $18.40 after coupon code discount.
Please post in the comments what some of your favorite fragrances are that you found on fragrancebuycanada.ca. The selection is vast... We'd love to know what some of your fav picks are!
Shipping will vary: Purses and fragrance adding up to over $31 ship for free, (plus get 8% off when using the promo code happy8.) Final cart must show a total of over $28 after 8% discount, to get the free shipping. Shipping for products that don't reach the minimum purchase start at $7.00 and up.
(Deal Expiry: May 1, 2016)