Tiny Prints Coupon Code: $20 Discount! (US) (EXPIRED)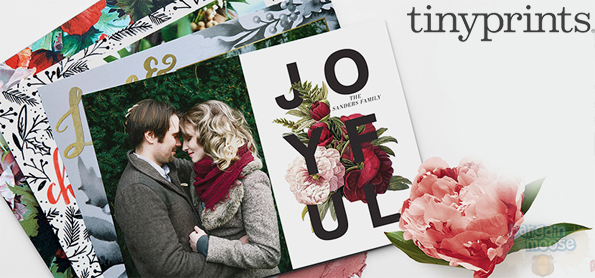 We're on the mailing list for Shutterfly.com, the US based photo gifts site which we've mentioned on here a number of times as they have great offers and ship to Canada. They started sending us emails about one of their sister sites Tinyprints.com, which specialises in cards, invitations, announcements, those kind of things. I went on the hunt for coupons to see what they were like, and I found a particularly good one – but it ends today. You can save $20 on any order, there's no minimum spend!
Click here to use the Tiny Prints coupon code now
Coupon Code: TPIPAD20OFF (EXPIRED)
Discount: $20 off
Expires: 17th October 2014
The above coupon code is supposed to be for orders placed through their iPad app, but I've just tested the code on the desktop site and it's working well. If you really want to, place the order through the app, but I don't think it's necessary.
Now, for shipping to Canada – it's not cheap. On my test order, it was $15. But this technically means you can place an order of anything you want, and the Canadian shipping fee is more than covered by the $20 discount coupon code. Remember, any order over $20 may be subject to additional customs and fees at your door, so you might want to keep your order small. It would be a great opportunity if you want to order some items, to see what the quality is like.
This year, I was considering making some holiday photo cards. I've never done that before, I've just used standard greetings cards in the past. There are some nice templates on there to choose from. These are even Halloween cards! Who sends Halloween cards?!
While we mainly like to feature Canadian companies here on Bargainmoose, we'll be the first to admit that there's a heck of a lot more choice when it comes to ordering items from the US. If you're planning a big party or a wedding, then it could be worth a browse on Tiny Prints as they have a great selection. There are also a load more valid coupons here on our coupon page for various items on the Tiny Prints site, but I think the $20 code with no minimum spend, is one of the best value. You cannot stack coupons, so just use the one which is best for your order.