S'well Rowboat Red Water Bottle $31.49 @ The Bay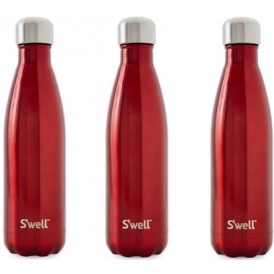 Everyone is going crazy for the S'well Water Bottles! While they rarely go on sale, I keep my eyes peeled so I can snag one or two for my family. Right now The Bay Canada has the S'well Rowboat Red Stainless Steel Water Bottle (my favourite colour) for $31.49 down from $44.99. It is the only colour on sale, and won't last long at this price.
The S'well Water Bottles are a stylish and practical way to keep hydrated. These trendy containers can keep cold drinks cold for 24 hours or hot drinks hot for 12 hours with their high-grade double-walled stainless steel build.
They hold 17 oz of fluid, which is plenty for when you're at the gym or hiking. Just remember that these S'well Water Bottles are hand wash only.
The Bay offers free shipping on orders over $99 - unless you hold an HBC Credit Card in which case free shipping starts on orders over $45.
If you like this, you may like these...