Space Bar Stickers Under $6 @ Etsy.ca!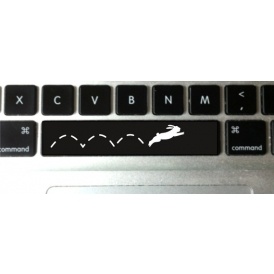 Look at that space bar on your keyboard. It is a bit boring, isn't it? Why not spruce it up with a cute vinyl space bar sticker. The Etsy shop West London Laser has quite a variety of amusing space bar stickers for just $5.76 plus shipping. It looks like the shipping charges are just $1.93 so that's really not bad.
I am constantly using my keyboard, and I think it would brighten up my day to see a bunny hopping across my space bar. Especially during this time of year. The Space Bar Hopping Vinyl Cut Sticker for your keyboard is just $5.76. These stickers are handmade, and you will need to message the seller and let them know the dimensions of your keyboard.
If you're not into the rabbit hopping across your keyboard, then perhaps you would prefer these Space Bar Planets Vinyl Cut Planet Stickers for your keyboard. They are the same price as the previous sticker, and may be more universal for men and women.
So in total you will pay $7.69 which is quite a reasonable cost for a way to spice up your keyboard.
(Expiry: Unknown)