Rainbow In My Room $20.01 @ Amazon.ca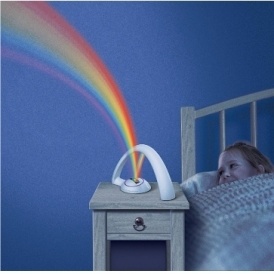 I can be an adult and want these things, right? Amazon.ca has the Rainbow In My Room LED Night Light on sale for $20.01 down from $39. This is definitely a popular item on Amazon Canada right now, and is perfect for any bedroom.
This is an "I want one of those" items. You know, an item you don't need but you really want it. I mean, who wouldn't want to all asleep staring at a rainbow? You can place this light on your night stand or on your floor. I am sure the kids will love it, and it would even make a fabulous birthday or Christmas gift for quite a few kiddos on your shopping list I would bet.
I can picture it now. The kids running to the bedroom joyously at bed time. Come on kids, let's go turn on your rainbow! Am I dreaming? I can't wait to try it out.
Get free shipping on Amazon.ca orders over $35.