Lightning Deal! 12 Pack of Sharpies just $8.50 @ Amazon.ca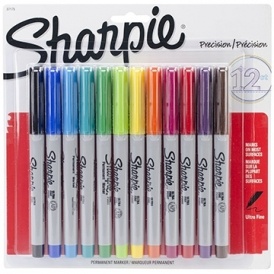 Here's a great little deal that you'll want to keep AWAY from the kids! I spotted this and immediately dropped it in my cart because I am a self-proclaimed Sharpie addict! Like, I have problem. The more colours the better! Right now you can pick up this 12-pack for what amounts to about $0.70/marker.
This pack caught my eye specifically because it's the Ultra Fine point markers which I use these on absolutely everything—our family wall calendar (colour coded, of course!), gift cards, labelling freezer bags, printing kid's names on clothing labels and for all my home office/work needs. I really can't live without them. And it MUST be Sharpie. No other brand for me.
I can attest that these are gorgeous vibrant colours and seriously the best felt markers around and whenever I see a deal I grab'em because I use them so much that they run out! But, remember, these are permanent markers so keep them away from little hands unless you want them to create original art all over your walls and furniture.
Shipping is only free after $25, so combine this with some other Amazon items you've had your eye on. Scan our site to see what else is up for offer at a super deal right now!
(Expires: March 23)