Fossil Mini Leather Crossbody Bag Now $62 (Was $128) @ The Bay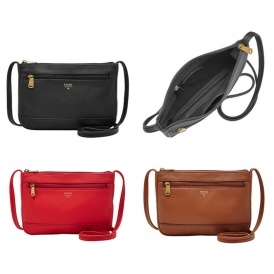 I love big handbags, but small, shoulder satchels are the way to go for busy women, or women who tend to lose everything, like myself. This Fossil Mini Leather Crossbody bag was originally $128, and is now only $61.44. At more than half off its original price, this purse is ideal for anyone who needs a purse that is fashionable yet practical. It is available in brown, black and red.
I've owned leather purses that were much more expensive than those featured in the Fossil line and my Fossil leather purse has hands down the best quality of leather I've ever seen. The leather is tick and luxurious, and stands the test of time. The one I own is very similar in size as this one, and while its style is a little dated now, the leather is as beautiful as ever.
I've noticed over the years that as a mom I tend to prefer hands-free purses, especially when I'm traveling. I'm very forgetful, and can't risk losing my purse and missing my flight. I'm also always running around with my toddler, so that might have something to do with it too. I'm a huge fan of the Fossil brand, so maybe it's time to replace my outdated Fossil purse after all!
Shipping is free at The Bay if you spend more than $100. If you're not looking to purchase for that amount, shipping for this particular purse would cost you $7.95.
(Expiry: Unknown)