FLASH Sale,Select Duvets/Pillows 60% Off -ONE DAY ONLY @ The Bay (EXPIRED)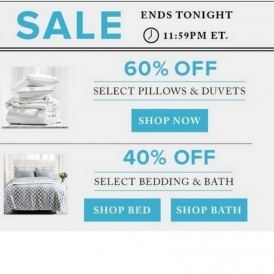 We have one pillow in the house that stays noticeably incredibly cool. It's so nice to lay your arm or leg on it on one of those insufferably hot summer nights. My husband has been saying to me we should get another pillow like that. Just this morning I looked on the label, and it was a Gluckensteinhome pillow from The Bay! How happy am I, to see that this Gluckensteinhome Pillow that we need is on sale today for 50% off? It is now only $25 - $30 (King)!
Hudson's Bay is holding an incredible flash sale in many departments that you won't want to miss out on! Check out all of the great deals that are running today until 11:59 pm EST.
I think that the duvets and pillows section is probably the best area to start looking. Everyone can stand a new pillow and if you need a duvet, there isn't a better time to buy. Check out the great low prices on those!

Looking for bedding and bath? With summer time here, you may want to spruce up the guest room with new towels and bedding.
Maybe you need a new mattress. You can buy one today only for 60-72% off! This sale offers up the Sealy Bradbury II Tight Top Set for $308 - $588. The regular price on those was $1,098.00 - $2,098.00. You are saving 72%! They also have other mattresses on sale for 60% off.
Shipping is only $5.95 if your order is under $50, $7.95 with an order that is between $50.01 - $75, and for orders ranging from $75.01 - $98.99 shipping is $9.95. Once you spend $99 or more, shipping is free, or, if you use an HB credit card to pay, your order only has to be total over $49 to ship for free. (Beauty products are an exception, they ship free with over $49 purchase, or, if pay with your HB credit card, shipping on beauty products is only $29. Some exceptions, such as mattresses, will of course vary. Please call 1-888-257-6784 to order a mattress.
(Deal expiry: June 22, 2016, 11:59 pm EST)