ClearlyContacts Canada: Prescription Glasses For Only $34 During November!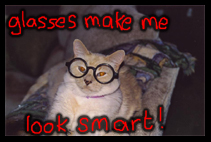 This is a very hot deal from Clearly Contacts Canada, in my humble opinion!!
During the month of November 2008, they are offering all their glasses for only $38! This price includes frames and lenses. There are some big designer brand names in there, such as Fendi, Yves Saint Laurent, Joseph Marc, Calvin Klein, and loads of others! Excellent price for designer frames!
Simply choose the frames you want on ClearlyContacts.ca, and customize them with your prescription. When you are doing this, make sure to add either of these coupon codes too – PVS or elevator. This will give you an extra 10% discount!! This means your designer glasses are only $34.20! You should see this discount reflected in your cart before you make the purchase of your prescription eyeglasses. (UPDATE - coupon code GLASSES44 gives you 25% discount!)
Shipping is by FedEx, and at a pretty reasonable rate of $9.95. Even if you order a few pairs, that rate stays at $9.95. Shipping is free on order of $100 or more, so maybe you could order 3 pairs to take advantage of the free shipping?

On top of that great offer, don't forget you can also get 12% cashback by going through Canadian rebate site "Dealguild"!
I've bought my contact lenses from Clearly Contacts before with the ENTERTAINMENT coupon code for 25% discount, they're a great site. And getting 12% cashback is a great bonus! I quite like the rimless glasses on their site, I don't have a pair of those – I think I'll place my order now – some new stylish eye wear for me!
Remember where you saw it first folks!! Why not add us to your RSS reader, or even subscribe to daily email updates!?
Thanks for the image td_8806!