Ardene Canada: 70% Off + Extra 20% Discount!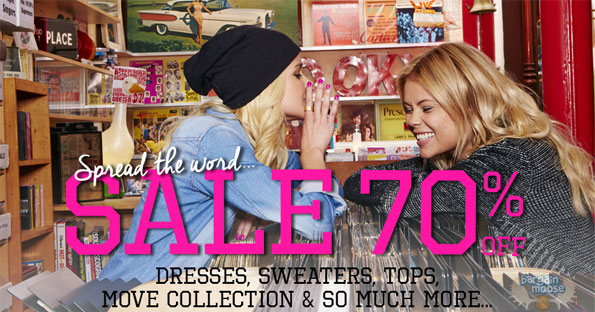 Here's a HOT offer you won't want to miss: at Ardene right now, you can save 70% off plenty of merchandise like tops, dresses and shorts AND if you add 5 or more items to your basket, then an additional 20% discount will automatically be added to your subtotal. On top of that, you can add our exclusive Ardene coupon code to get another 10% off! That's savings on top of loads of savings! This offer is available online only.
Warning, big screenshot coming up but I just had to demonstrate the incredible savings that you can get right now: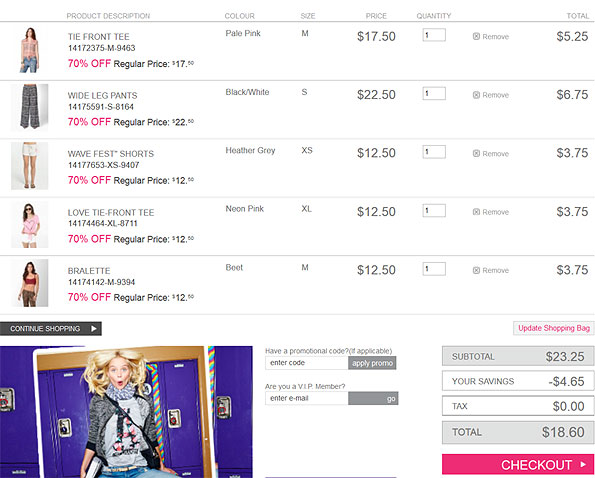 That's an order total of $18.60 for 5 items that would have otherwise cost $77.50 -- 76% off overall! Savings like these are definitely rare and it's definitely worth shopping right now before it's too late, although keep in mind that shipping is only free on orders over $59.99, otherwise a $7 shipping fee will apply.
The 5 items that I added to my cart are the following and the prices that I included are those from the 70% discount only:
Since the most "expensive" price you can expect to pay for is a regular price of $34.50, this actual means that at 70% off, the most expensive price you will be looking at is actually just $10.35 and as I already mentioned, an extra 20% off with purchase of a total of 5 items. There are a number of maxi dresses that you can get for just $10.35 like the beautiful sheer layered or the blue bandeau ones. At the start of the summer, Maxi dresses typically tend to be pretty pricey, so it would definitely be a good idea to stock up on a few in preparation for next year! Although they're only available in a size 10, I also found these wedge heels, which come down to just $10.35 as well. They're beige in colour and feature a 5" wedge heel.
(Expiry: 12th September 2014)