Via Rail Canada Valentine's Sale: 50% Off Adult Fares In Any Class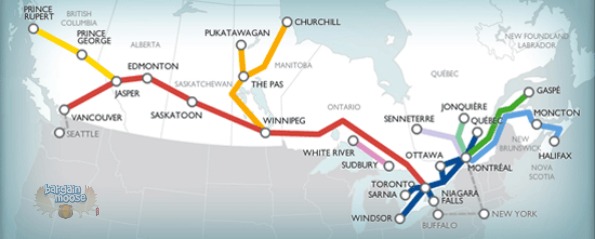 Via Rail is having a Valentine's sale with 50% off adult fares in any class to any destination in Canada that Via Rail travels to. This offer ends on Valentine's Day, February 14th, and travel must be made by June 15th, 2013.
This is a great deal if you are traveling anywhere around Canada this Spring. I have always fantasized about traveling West by train, and if you have to, now is the time to get in on these really cheap fares. I'll let you search for your own destination and dates since they vary so widely depending on where you are going and when.
To get the discount on Economy class trains, you must select Economy supersaver fare and your fare will automatically adjust if you meet all of the conditions I've told you about. You can book online or by phone or at the station, but online is by far the simplest way to go. You also have to have a minimum regular one-way fare of $50, so destinations where a regular ticket is less than $50 do not apply. The tickets are non-refundable and there are no additional discounts for seniors or youth.
To get the discount on Sleeper class trains, which are valid on the Eastern and Western long-haul trains, you must select Sleeper class, any discounted fare or Sleeper Plus class, any discounted fare to get the discount. Fares must have a regular price of a minimum of $75. Refunds are not available, but exchanges are possible for a service charge of 50% of the fare to a maximum of $150 per direction, per person.
How amazing would it be to travel from one end of Canada to the other by train and see the awe-inspiring scenery that our country has to offer. If you are worried about how your kids will be on the train, some of the Sleeper trains offer videos and games for children. One of them even has a panoramic dome where you can look up at the moon and stars from the train.
(Expiry: 14th February 2013)