Newegg Canada: 27% Off Krups & Heineken B100 BeerTender - Now $109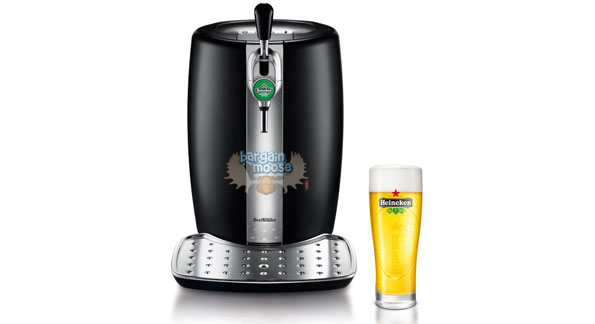 No, what you're looking at above isn't a Keurig. Though it may look like one, it's actually a home beer draughting system and with Valentine's Day right around the corner, this could definitely turn into the best present ever. Even better is that it's currently 27% off at Newegg: now just $109.99 (reg. $149.99).
Though it only has 3 stars out of 5 on Newegg, it does, however, have an average of 4 stars out of 5 on Amazon.com with over 130 reviews. Plus, this nifty device is actually priced as high as $237.47 on Amazon.ca!
In fact, here's what one reviewer had to say about it:
For beer drinkers, how can you go wrong with your own keg? The mini kegs are a little overpriced. So if you drink like a fish, it's not for you. But if you want a fresh, cold, amazing drink after a long day at work, go ahead and spoil yourself. Just don't forget to freeze some mugs!
Admittedly, the only drawback is perhaps the lack of selection when it comes to the beer you can use with this machine but if you or your hubby are a fan of any of the following, then I'm sure you will love this handy machine that will keep your beer at the perfect temperature: Heineken, Heineken Premium Light or Newcastle Brown Ale Draughtkeg.
Even with the $19.99 shipping fee that is automatically applied to this BeerTender, it's still a better deal than anywhere else.
What do you think? Would you consider this for a Valentine's Day gift?
(Expiry: Unknown)