West Jet Canada: Jet-Away Sale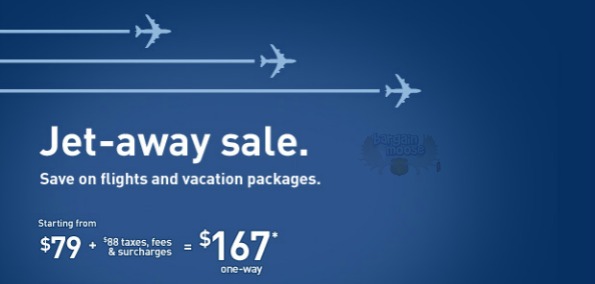 West Jet has some great deals on right now if you are planning on booking a trip at the end of this year or the beginning of next. Save on Canadian, U.S., Mexico and Caribbean destinations for a limited time only.
Book by October 18th and travel between November 1st and February 7th 2013 and you can save huge on some great deals.  There is one set of blackout dates which predictably is December 13, 2012 to January 8, 2013 (so basically Christmas time). To be honest though, I have traveled right at Christmas time and I would never do it again.  There are always delays and really, who wants to travel right at Christmas and chance a layover because of bad weather?
Here are a few deals that you will find:
Calgary to Kelowna $119
Toronto to Quebec City $135
Winnipeg to Los Angeles $264
Toronto to Bermuda $171
All of the prices include a one-way fare and all taxes are included as well. You can choose to leave on Mondays, Tuesdays, Wednesdays and Saturdays with these deals.  Travel to practically anywhere in Canada, USA, Mexico and the Caribbean and you will find some great deals with this Jet-away Sale. If you are looking for flights going outside of Canada, make sure to read the fine print because there are some limits on the dates.
(Expiry: 18th October 2012)