Travelocity.ca Cruise Super Sale Now On (& Up To $500 Free Cruise Cash)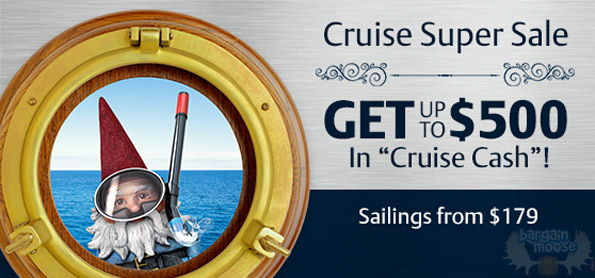 With these cold winter blues, I am sure many of you are thinking of warmer climes, and perhaps starting to think about the upcoming summer vacations. It's a good time to start deal hunting for trips, and we'd like to let you know about a special offer from Travelocity for those of you considering a cruise. If you book a cruise online at Travelocity, they are offering up to $500 in "cruise cash" to spend on board.
They state sailings start at a cost of $179, but that would only be for basic trips. For longer vacations, you are of course talking of moving in to the hundreds and thousands of dollars price range. The amount you can receive in cruise cash will of course depend on your initial spend, following these amounts:
$600 - $1,099 spend = $25 cash
$1,100 - $1,999 spend = $75 cash
$2,000 - $3,199 spend = $125 cash
$3,200 - $5,699 spend = $175 cash
$5,700 - $7,799 spend = $250 cash
$7,800+ spend = $500 cash
It's not a huge amount in cashback, but if you're planning a cruise anyway, then it's a good time to do so - get that little bonus in cruise cash to spend on board. There are a few more terms and conditions which you can see on the above link. I can't see in the terms and conditions what you will be able to spend your "cruise cash" on. But from experience, anything you buy on board the boat is invoiced at the end of your trip - and the cruise cash probably counts as a credit towards that. For example, beverage packages, excursions, spa treatments, etc.
A few years ago, I went on a Mediterranean cruise with the Royal Caribbean cruise line, and it was fantastic.  I managed to score a good deal on the 7 day cruise, but I did find that the extra services on board the ship were quite expensive. For example, I purchased an extra wine package giving 5 bottles over the course of the week, and that cost about $120, if I recall correctly. That on-board spending credit could easily be put towards a few bottles of vacation wine!
(Expiry 31st January 2013, sail by 30th September 2013)