Royal Caribbean: 3rd or 4th Person Sails Free Plus Free Room Upgrade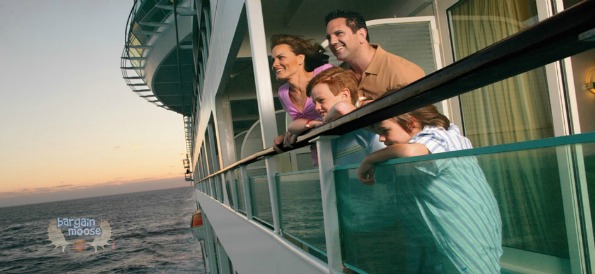 If you are thinking about a cruise, well really who isn't? But, if you are serious about booking a cruise, I found a great deal for you. Royal Caribbean is offering a limited time promotion of the 4th person sails free! Plus, get a free room upgrade as well.
Cruises somewhat frighten me as I have a fear of really wide open spaces. That said, I'd really love to be spoiled on a cruise. I have friends who have been who love nothing less and it really is a site to see this ship the size of a building moving in the giant ocean. When I was in the Bahamas, we came close to one on our booze cruise and I was really amazed at the sheer size of them.
If you and three friends or your spouse and your kids want to get away, well one of those lucky bums gets to go free. Of course, you can split up the cost so no one is truly free, you just save 25%, but that is up to you.
They also have a deal where you pay the price of a lower priced room when you book one up from that room. So, if you want a balcony room, you'll only pay the price of an ocean view stateroom.
Both of these deals are available only on certain ships, so check that out before you book.
A 3-night Bahamas cruise starts from only $232 a person. This means a family of four could sail for only $696!
(Expiry: 31st March 2014)