Toronto Zoo Coupons: Free Child Admission (Saves $12)!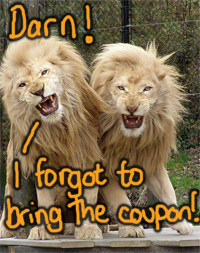 We're going to the zoo, zoo, zoo, you can come too, too, too…
Pay for a general admission into Toronto Zoo, and you can get a child entrance for free! That's a saving of $12 - quite good!
Check out the Toronto Zoo website for opening times and more info.
And print out your free online coupon for Toronto Zoo here.
This free coupon will expire on the 31st of August 2009. So make a note of it, and if you'd rather make use of the deal when the weather starts to get a little warmer, just print out the coupon when you need it. It says it is 1 coupon per child, so if you are 2 adults and 2 kids, just print the coupon out twice and bring them with you.
Speaking of zoos, the best zoo I have ever been to in my life belonged to the late and great Steve Iwin – Australia Zoo. Regardless if you like the man or if he gives you an excruciating pain in the head, he did a lot for conservation and for animal welfare. The zoo itself was so large, open, the animals had tons of space, and were incredibly well looked after. The animal shows were pretty fun too – never before have I heard the crunch of bone as a crocodile's jaw snaps shut on its dinner!
Thanks wAlanb.