Fountain Tire Coupon: 10% Discount!
This is a free Fountain Tire coupon which will get you a percentage discount when you buy some new tires there. While 10% isn't loads, it's better than nothing!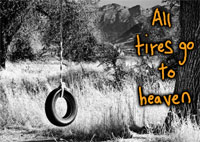 As you can see, the free Fountain Tire coupon does not expire until the end of the year (2009), so you can print it out and use it whenever you need it. I guess if you are spending a couple of hundred dollars on new tires, then 10% could mean quite a few dollars back in your pocket!
Thanks wickenden!