Wizard of Oz Cloth Dolls From $10 @ Amazon.ca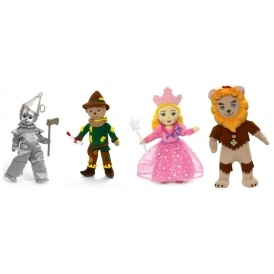 Are you a Wizard of Oz fan? Then I have a deal for you! Right now Amazon.ca has a variety of Wizard of Oz Cloth Dolls on sale for up to 77% off. These adorable figures are by Madame Alexander Dolls but are shipped and sold by Amazon Canada. Thus, you will get free shipping if you spend $25 or more.
There are quite a few of these dolls on sale actually, and I might have to cave in and get one myself. Who is your favourite character? The 8-Inch New Tin Man is on sale for 77% off. So instead of paying $111.99 you will pay $25.56. There is another version of the Tin Man on sale for just $19.14 as well. While the original prices are inflated, the sale prices are reasonable for such characters. Dorothy herself isn't on sale, but her original price of $33.59 is quite reasonable.
Another popular character is Glinda The Good Witch. Her plush doll can be yours for just $26.94 which is 31% off. Perhaps your favourite character is the Scarecrow?! You can get the Scarecrow Cloth Doll on for 56% off, which puts the price at $17.30. I may have to grab the Lion Cloth Doll - especially considering the price is just $10.01.
Toto the Terrier Dog is my favourite animal, and you can get this 12" plush by Aurora for just $20.89.

Spend $25 to get free shipping from Amazon.ca of course.
(Expiry: Unknown)