Where to Buy NES Classic Mini Console in Canada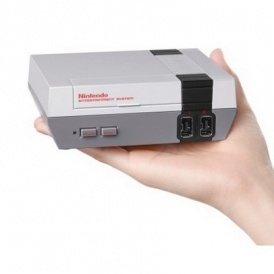 The NES Classic Mini Console gaming system is being released on November 11th! It's a nostalgic yet entertaining system for kids and adults. With 30 classic retro games built in and a price point of $79.99 there's no doubt that this will be the #1 gift under Christmas trees this season. As interest piques and stock decreases it will become harder to get your hands on one of these.

The NES Classic Mini Console is currently not available but we'll search retailers' websites for stock and will also keep you posted on pre-order availability as it goes live - so bookmark this page and come back frequently for updates!
In Stock
Limited Stock/Higher Prices
Currently Out of Stock
This console is pre-loaded with 30 games and includes a controller. You can use your HDMI cable to connect it to your TV and each game features a multiple suspend point which allows players to come back to the game and return to where they left off.
Here are the games included - the Super Mario lineup is amazing:
Balloon Fight
Bubble Bobble
Castlevania
Castlevania II: Simon's Quest
Donkey Kong
Donkey Kong Jr.
Double Dragon II: The Revenge
Dr. Mario
Excitebike
Final Fantasy
Galaga
Ghosts 'n Goblins
Gradius
Ice Climber
Kid Icarus
Kirby's Adventure
Mario Bros.
Mega Man 2
Metroid
Ninja Gaiden
Pac-Man
Punch-Out!! Featuring Mr. Dream
StarTropics
Super C
Super Mario Bros.
Super Mario Bros. 2
Super Mario Bros. 3
Tecmo Bowl
The Legend of Zelda
Zelda II: The Adventure of Link
What are your top 3 games on the list?