Where to Buy Teddy Ruxpin 2017 in Canada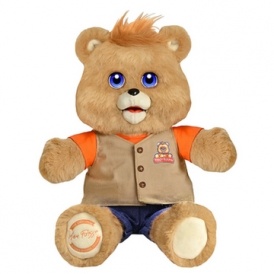 Teddy Ruxpin is back! The Teddy Ruxpin 2017 is fairly hard to find in Canada, but we tracked him down and found him on sale for $129.99 (down from $149.99) at Best Buy Canada!

This is predicted to be one of the top toys this Christmas, so I'd grab one before they sell out!

Teddy Ruxpin 2017 just came back in stock online! Quantities are limited, so act fast if he's on your shopping list!
While the original Teddy Ruxpin "read" stories through a motorized mouth and a cassette player in his back, the Teddy Ruxpin 2017 has an internal hard drive programmed with three different stories, and you can download more.
He now also has colour LCD eyes that can blink, look up and down and react to what he's reading!
Plus, your kids can follow along with the stories on the free app, which will synch up with Teddy as he reads and flips the pages!
This sale is only on until Dec. 24, 2017, so don't wait to pick one up!
Shipping is free on orders over $35 at Best Buy Canada.
Updated Dec. 15, 2017