Walmart.ca: Angry Birds Star Wars Jenga Darth Vader Was $30 | Now $15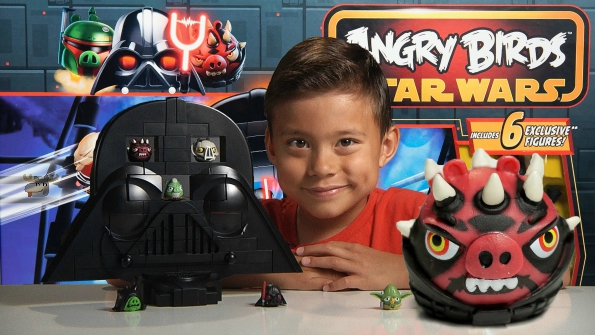 Prepare for the coolest toy ever! Angry Birds has teamed up with Star Wars (and Hasbro) to bring you Angry Birds Star Wars Jenga - Darth Vader style. Originally $29.95, the game is now on sale for $15 and stock is limited! Receive free shipping to your local Canada Post outlet (or to your home on $50+).
This game is nearly impossible to find elsewhere in Canada at a reasonable price. I could only find it at Amazon.ca sold for $46.08 fulfilled by Amazon (sold by Marketplace seller). I price compared in the USA where it ranged from $14.98 USD to $29.99 USD. Given our current exchange rate, the price at Walmart Canada is still approximately 30% better than even on sale at the US stores.
This game is so cool I want to play it myself! First, you have a huge Darth Vader head made of Jenga blocks. The name of the game is to destroy the fortress (mask) and take out all the evil piggies. For evil piggies, you have Darth Vader, General Grievous, Darth Maul, Count Dooku, and Emperor Palpatine. They have all been turned into pigs (serves them right!) and are yours to knock down and out.
Representing the good side of the force, Obi-Wan Kenobi, Luke Skywalker, and Yoda are popular bird figures. I do wish there were a few others of the good guys because Star wars has some of the best villains and heroes!
You can employ many tactics. Try and shoot the opposing team out of the little openings or try and take down the entire Janga block Darth Vader.
Reviews are really pleased with the set so far. One reviewer said:
My son loves Star Wars and Angry Birds this was a perfect gift for him. However, the darker pieces were not numbered and a little difficult for him to try and piece together on his own.
Older kids would not have this problem but some of the younger kids may need help. Overall, this looks like a really fun toy with some great characters. As stock is already limited, I expect this deal not to last long! May the force be with you.
(Expiry: Unknown)