Toys R Us: Scooby-Doo! Morphing Monster Lighthouse Playset Only $13 (FS @ $25)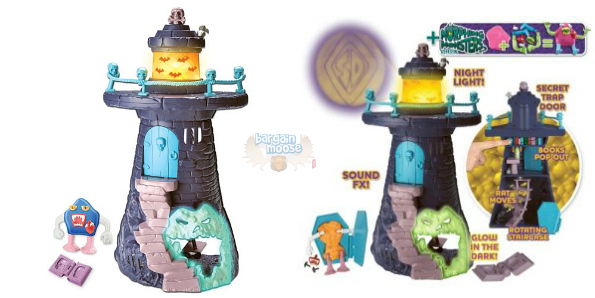 Toys R Us has placed the Scooby-Doo! Morphing Monster Lighthouse Playset on sale from $24.98 down to $12.98. This is an awesome little playset with tons of lights and hidden features for your children to enjoy.
First, the original price on Toys R Us Canada appears to be already discounted. I found many cached websites where the original price was listed at $39.99 for this toy. I think this may be the last place in Canada to purchase the Scooby-Doo! Morphing Monster Lighthouse Playset - at least for a reasonable price. I found the same playset at Amazon Canada for $40 from a secondary seller (fulfilled by Amazon).
Given my research, I thought this was a deal worth highlighting. The Scooby-Doo Playset comes packed with features. There are scary sound effects, a glow in the dark cave, and a haunted library. The library even has a trap door. The playset includes coffin and skull moulds so you can make your own monsters! Putty and body parts for your monsters are included.
Not only is this Morphing Monster Lighthouse Playset a fun toy, the lighthouse doubles as a nightlight and projects a SD silhouette. This would be great for any child that is afraid of the dark or just really likes Scooby-Doo. Personally, I am a HUGE Scooby-Doo fan and have the complete Scooby-Doo Where Are You series. Thus, I just adore this set.
Parents (and grandparents) seem equally impressed. One reviewer said:
Wonderful toy. My granddaughter who is three is a big fan. this was one of her favorite gifts for Christmas. A product that really does what it promises to do. She loves the trap door, the eerie sound and projection keeps her playing for hours.
Great price and batteries included - wow..
After reading a few other reviews, it appears that there are some hidden features too. One reviewer said that there is a set of books that fly off the shelf! The only disadvantage is that the set does not come with any of the Scooby Gang. Check out a video of the playset here:
Receive free shipping on orders of $25 or more at Toys R Us Canada. To reach that minimum you could easily just purchase two of these sets or check out the sale section for more good deals. There is a limit of two Scooby-Doo! Morphing Monster Lighthouse Playsets per person.
(Expiry: Unknown)