Toys R Us Canada: Wi - Spi Intruder Remote Control Surveillance Vehicle | Was $100 Now $50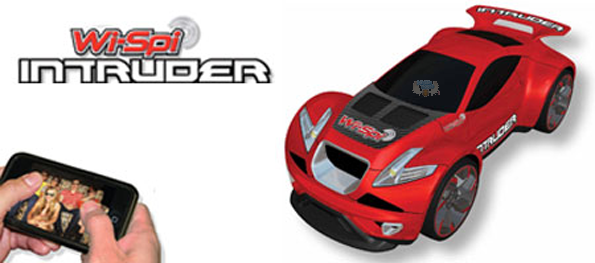 Good morning, Bargainmoosers! If you're a fan of espionage, cool tech gadgets, or intriguing ways to film videos, then this deal will certainly get your attention. At this time, you can get a Wi - Spi Intruder remote control vehicle for $49.98 on Toys R Us' website (and it qualifies for free shipping). The regular price of this item is $99.98, so you're saving 50% on this deal!
The Wi - Spi Intruder remote control vehicle is a neat gadget to play around with. What's interesting about it is that you need to use your smartphone as a remote control for it (as its name implies, it's controlled via a WI - FI connection). However, it's not just an ordinary R/C vehicle - it can also record video! Whether you want to use this car as a hidden surveillance device, or if you want to record some joy rides around the house and upload them to YouTube or Facebook, the Wi - Spi Intruder will provide you with many great options.
I personally would love to use this device to prank my friends and family! Being able to record their reactions when an R/C car suddenly sneaks up on them when they least expect it would be priceless! Yes, I have a weird sense of humour.
You can also snap some pictures with the Wi - Spi Intruder. Either way, this would be a great gift idea for those who love having unique gadgets. The ability to control this device with your smartphone is an added bonus that makes it more than just your average R/C vehicle.
On Amazon, you can purchase the Wi - Spi Intruder for $87.18. I've included a snippet of a review from Daddoes.com below:
When we read the Intruder had night vision, we figured it was a gimmick and the night video would be poor quality... the Intruder has incredible night vision!  The kids had a blast driving through rooms in complete darkness. The Wi-Spi Intruder runs for about 30 minutes on one charge – which is fantastic.  In addition, the recharge only takes about 45 minutes.
If you're looking to have some fun with a cool gadget, then you can't go wrong by spending $49.98 on the Wi - Spi Intruder vehicle. I hope you all enjoy your day, Bargainmoosers!
(Expiry: Unknown)