Toys R Us Canada Weekly Deals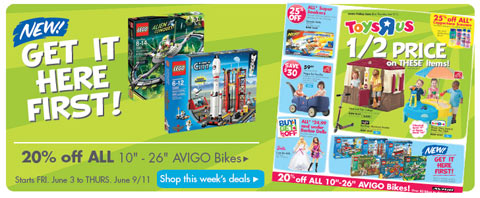 Every week, Toys R Us Canada have sales on specific product ranges. Sometimes they aren't that interesting, but sometimes popular products creep in there, like Lego or Barbie, with decent savings on the toys. Here is the synopsis for the coming week.
You can see all the deals at the above link, but I am going to write about a few that catch my eye:
20% off all Avigo bikes - I always wanted one like this with tassles on the handles! My little girl will be getting one like that when she is old enough to ride a bike.
Save 40% off Vtech toys - I'm a fan of Vtech toys for my baby. She just got this learning laptop for her birthday a few weeks ago. It's pretty cute, and it's even got its own mouse shaped mouse!
Save 20% off Thomas wooden rail toys - I've mentioned on Bargainmoose a few times that I love wooden toys, and rail toys are no exception. I'll be buying a rail set for baby when she's a bit older, and I think the Thomas ones are fab.
Free shipping when you buy 2 or more books - my little one loves books, so I think that's a great start! We've got this Old Macdonald puppet book which is great fun to play with her. I find it quite hard to move my little finger indepenantly of the others though, so the duck isn't as active as the others. :D
Click through to Toys R Us for more of the weekly deals.
(Ends 9th June 2011)