Toys R Us Canada: 50% Off Imaginarium Marble Race - Now Just $22.47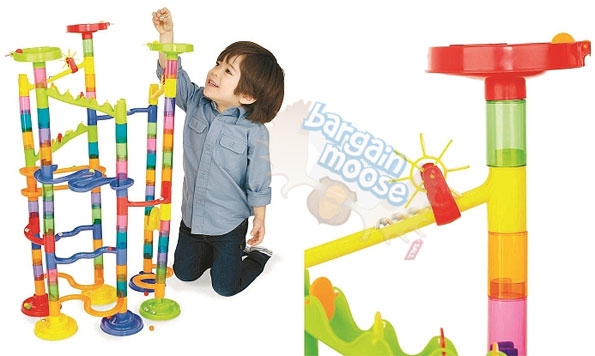 Get ready to chase some marbles with the Imaginarium marble race now on sale for just $22.47 at Toys R Us. It was originally priced at $44.99, which puts it at a 50% discount.
As a mommy to a toddler who is constantly on the move, I am always on the lookout for awesome deals on toys. Although my little one isn't old enough yet for the Imaginarium marble race, it caught my eye right away because it looks like it could have the potential to keep her entertained for a while -- that's if she was old enough to use it, which according to Toys R Us' product description, the recommended age is of 3-4 years old.
Although it might look flimsy by the picture, this marble race actually has fab reviews like this one:
I was concerned about the quality, unsure if it would stand up to the rough and tumble ways of my boys. However, the price was so much better than other marble tracks and it had many more pieces, so we gave it a try. I have been pleasantly surprised. Yes, it could be sturdier, and we have to be careful because it can fall over when you're careless. But my boys (6 & 3) love it.
Overall, it has 165 reviews and a total of 4/5 stars, which is pretty amazing and is even very persuasive for me to buy it for whenever my baby can play with it! :P
With 20 track pieces, 50 connectors, 9 rollers and 2 paddles, the design choices are pretty endless. Not only would kids have fun rolling the marbles down, which by the way, there are 20 of included with this set, but they will also have loads of fun assembling this set -- endless hours of fun and most importantly, endless hours of peace for you! Perhaps not peace and quiet but still, a bit of peace is always nice!
I had a look around and at Amazon.ca, this same marble set is actually priced at $43.98.
Shipping is only free on orders over $49, so you would need to either add more items to your cart, or swallow the $11.09 fee. Personally, I would opt for the option to pick it up in-stores instead. The cool part about it is that you can pay for it online, even with PayPal and pick it up in-stores within a couple of hours.
(Expiry: 18th June 2015)