Toys R Us Canada: 5-Way Radio Flyer Family Wagon $149.97 (Was $229.99)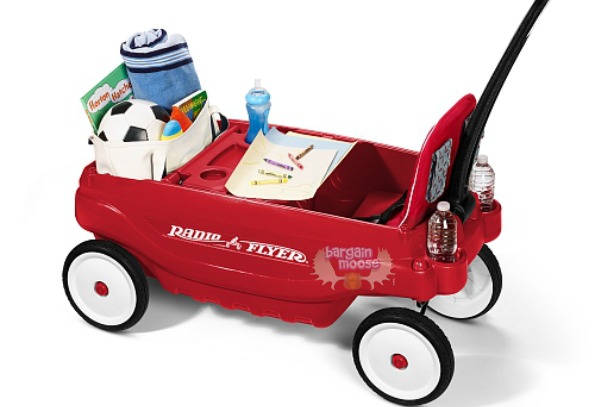 This deluxe wagon is an amazing price! Get the 5-way Radio Flyer family wagon for only $149.97, was $229.99, at Toys R Us this week.
I am not the hugest wagon fan as I hate pulling things, but I have to admit these wagons are super handy. Friends and family who have them make me envious when we go out together and their kids are so cozy and comfortable, along with all their stuff, in their wagons, while mine are squished into a stroller that they don't want to sit in. Or worse, are walking and complaining and I'm holding all the stuff in bags!
With five seating and storage options, you can fit whatever you want into this wagon, including two kids and some stuff, one kid and lots of stuff or lots of stuff. It has adult and child cupholders, because you need a drink too. What is the most awesome is that older kids don't mind sitting in the wagon, whereas they would not set foot in a stroller. I love the setup where the kid can even do some crafts while you pull them around. How can I get this arrangement set up for me? You can also set it up so your kids are looking at each other (i.e., fighting) or looking in the same direction (i.e., not fighting).
This wagon has a removable UV protection canopy, which keeps the kids out of the sun.
One reviewer who loves this wagon said this:
I did a lot of research before I bought this wagon and I was not disappointed. The wagon is even better than I expected! It is very attractive. The seats have nice high backs and padded seat covers. The wagon is very easy to pull and very smooth. The front wheels swivel so it is so easy to turn.
Shipping is free when you spend over $99, up to a $20 value.
(Expiry: Unknown)